Soft toy lure for South Tyneside sports hall sparrowhawk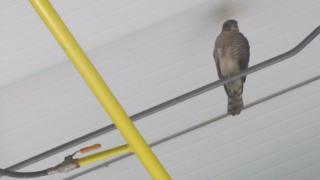 Soft toys, paper and a hawk were used in a bid to lure a bird of prey which had taken up temporary residence in a South Tyneside sports hall.
The young sparrowhawk - nicknamed Jack - had spent three days among pipes and beams of the ceiling Monkton Stadium.
Staff dragged soft toys along the floor to imitate live prey, then brought in a Harris hawk to frighten it outside.
Eventually paper was hung from the ceiling which encouraged it to fly lower down, and it was caught in a net.
The bird then flew off into nearby woodland unharmed.