Rescuers aid climber who fell 50ft down Northumberland crag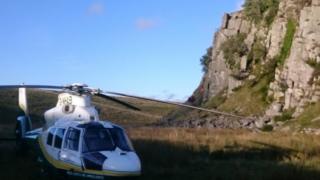 Rescuers have been called out to an unstable crag for the third time in as many months to aid a climber who plunged 50ft.
The Great North Air Ambulance Service was called to Peel Crag in Northumberland on Monday evening after reports of a man with chest injuries.
It is believed the 48-year-old had grabbed on to rock that broke off the crag causing him to fall.
This is the third time rescuers have been called to the same spot.
The ambulance team was helped by the Northumberland National Park Mountain Rescue and North of Tyne Mountain Rescue.
The man was flown to the Royal Victoria Infirmary in Newcastle where his condition was described as stable.