Langley Park fire: Firefighters extinguish tyre blaze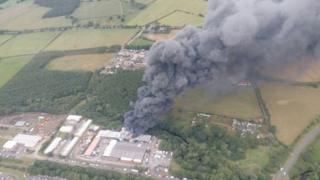 Firefighters have successfully put out a blaze at a County Durham industrial estate which began on Friday.
The fire broke out among tonnes of tyres at Langley Park Industrial Estate near Diggerland, closing a nearby road because of plumes of smoke 60ft high.
No-one was seriously hurt in the incident, which badly damaged a number of factory units.
A 54-year-old man was arrested on suspicion of arson late on Friday and was subsequently released on bail.
Durham and Darlington Fire and Rescue Service said the blaze, which was eventually extinguished late on Sunday, involved between 50 and 100 tonnes of tyres.
Managers at the nearby Diggerland theme park said some visitors were stranded for a time because of road closures.
One man was treated for the effects of smoke inhalation.