Newcastle Falcons' Zach Kibirige 'left marks on woman's neck'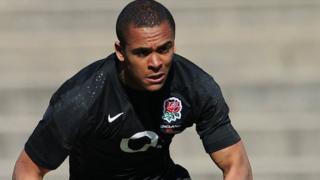 A professional rugby player left red marks on a woman's neck after putting his hands on her throat before raping her, a court has heard.
Newcastle Falcons player Zach Kibirige, 21, was invited to the woman's house to "watch a film and have a cuddle".
But the woman told Newcastle Crown Court he looked "angry" and put his hand on her throat before raping her.
He denies four counts of rape, attempted rape, sexual assault and a further assault charge.
The woman told the court: "When I kept saying no, he put his hand on my throat, he looked really angry. He just kept saying 'you know you want this. Tell me you don't want it'"
The hearing heard Mr Kibirige told police after he was arrested that the midnight encounter was unplanned but consensual.
'Like a handprint'
A video of the woman's police interview was played to the court, in which she claimed the incident in November left her neck marked.
She told the officer: "It looked like a handprint."
The pair had swapped almost 1,000 Whatsapp messages before meeting at her home.
Before meeting, she sent a message saying "JUST cuddles", the jury heard.
Kibirige replied "sure".
But the complainant said he subjected her to a series of sexual offences for about an hour.
The hearing heard the woman later sent a Whatsapp message to Kibirige saying she had been "bucked and ditched", adding "that was not OK".
She was "completely sober" at the time, the jury heard.
She told the court that she was "scared and in a state of shock" when she sent the message.
The trial, expected to last around three days, continues.