Northumbria Police affairs row: Denise Aubrey loses dismissal case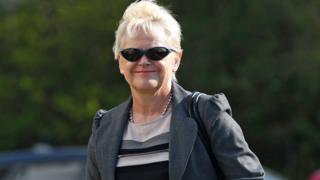 A former police head of legal services has lost her claim of unfair dismissal, harassment and discrimination.
Denise Aubrey, 54, was sacked from Northumbria Police for gross misconduct in 2014, after more than 20 years with the force.
Her employment tribunal heard allegations of affairs between senior officers, a brawl at a barbecue, and a culture of bullying and sexism.
The tribunal has dismissed her case, ruling she was fairly sacked.
Barbecue fight
Ms Aubrey made several claims against the force, one of which was that she was unfairly dismissed because the force believe she "gossiped" about senior officers having affairs, which she denied doing.
The tribunal heard that former chief constable Mike Craik, who has since retired from Northumbria Police, was alleged to have been seeing Assistant Chief Constable Carolyn Peacock.
It was also claimed Ms Peacock's chief superintendent husband, Jim, punched Mr Craik at a barbecue over the alleged affair.
The tribunal also heard allegations an incident log about the altercation was deleted and officers were told not to look for it.
Mr Craik and the Peacocks, who are also no longer with the force, were not present at the hearing, but it was said they deny both the affair and the altercation at the barbecue ever took place.
The tribunal heard Ms Aubrey was sacked after a meeting on 6 June 2013 involving her and other members of the force's legal department.
During the meeting she was "angry and upset" and ranted about her problems, according to others present.
She told two of her employees that then-deputy chief constable Steve Ashman wanted them to be disciplined, which was not true, then urged other members of the department to resign en masse to create a problem for him.
She also told staff about the alleged affair and subsequent punch-up and how she had worked for the force on the case of a senior officer accused of sexually harassing a secretary.
'Self-serving'
Her tribunal agreed with Northumbria Police's decision that her conduct amounted to gross misconduct and she should be dismissed.
The tribunal said: "Ms Aubrey was a senior solicitor, describing herself correctly as 'the keeper of the secrets', who, for no good reason, had broken confidentiality on a most sensitive and personal issue."
Though the rumour of the affair was known both in the force and by journalists, Ms Aubrey converted "rumour into fact", the tribunal concluded.
She did it for "purely self-serving reasons, in anger and in the heat of the moment".
Speaking after the findings, Mr Ashman, who is now chief constable of Northumbria, said Ms Aubrey's allegations had been "damaging and malicious".
He said the way they were raised through the tribunal caused "significant distress and discomfort to a large number of people, many of whom have long since retired and therefore had little relevance, if any, to the claims made by Ms Aubrey".
He said the allegations were "wholly unacceptable, deeply disappointing and very distressing to those involved".