South Shields' cricketer's family sought for ball return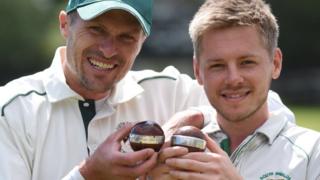 Campaigners are hoping to reunite the family of a cricketer with two 100-year-old match balls of his.
Bowler Harry McAndrew was presented with the two balls from matches in 1912 and 1916 after he took a record number of wickets.
The commemorative balls have been rediscovered in storage at South Shields Cricket Club.
Now the club is hoping to find Mr McAndrew's descendants to give them the balls.
He was given the first ball in 1912 after claiming six wickets for two runs against Philadelphia, whose score of eleven is believed to still be a league record low.
In 1916 he took all ten wickets against Backworth Percy for 22 runs, a record for South Shields.
Current batsman Gordon Muchall said: "Harry's achievements on those days were incredible and were quite rightly acknowledged by the club at the time.
"Very few bowlers get to take all ten wickets in a game and it's the type of local sporting history that should always be remembered and treasured."
Mr McAndrew played for South Shields between 1907 and 1920, ending with 144 wickets at an average of 18.43.
He worked as a navigation lecturer and assistant principal at the Marine School of South Shields, the forerunner of South Shields Marine School, which is today part of South Tyneside College from 1922 until his retirement 1947.