Kielder ospreys: Record number of chicks fledge the nest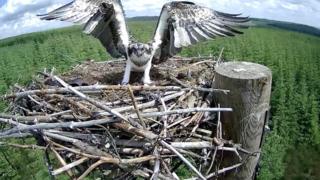 Ospreys have had their most successful breeding season since they were reintroduced to Northumberland in 2009, after an absence of 200 years.
Nine chicks have already fledged from the four nests in Kielder Forest, with two more expected to take their first flights within days.
It beats the previous record of eight in 2014.
Until the birds take off on migration to Africa, in late August, they can be viewed via webcam feeds.
Ospreys were once distributed widely, but illegal killing and egg theft resulted in extinction in England as a breeding bird in 1840 and in Scotland in 1916.
---
Osprey facts
• Migratory, they arrive in late March and April and leave again for Africa in August and September
• Normally breed for the first time when they are aged four or five
• Largely monogamous and faithful both to nest and mate
• Females lay two or three eggs at one-to-three day intervals, which are incubated for about 38 - 42 days each
• Chicks fledge about seven weeks after hatching
---
They re-colonised naturally in Scotland in 1954, and began breeding in the Lake District in 2001.
The species remains on the Ambers List because of its historical decline and low breeding numbers.
Philip Spottiswood, from the Forestry Commission, said: "We are all delighted that 2016 has been a record-breaking year for Kielder's ospreys.
"The young birds will help to ensure that this once rare species continues to recover in England."