Jeremy Corbyn joins mourners at Dave Hopper funeral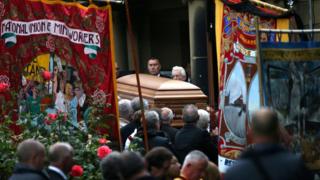 Hundreds of people, including Labour leader Jeremy Corbyn, have attended the funeral of the general secretary of the Durham Miners' Association.
Dave Hopper died aged 73 at his South Tyneside home on 16 July.
A week earlier he had shared a platform with Mr Corbyn at the annual Durham Miners' Gala.
Mourners packed the association's headquarters for the humanist service, which was also relayed to people in a large marquee outside.
Before the service, Len McCluskey, the general secretary of Unite, described Mr Hopper as a wise, humble and a gentle man beneath his macho exterior.
He said: He said: "I will miss the chats that we used to have on regular occasions. He was a lovely man and we will miss him."
Addressing mourners, Mr Corbyn said: "I learned a lot from Davey Hopper - he gave me a lot of helpful advice, he recognised that when you take on a struggle you get a lot of pressure.
"When you get a lot of pressure you can either retreat and run away or you stand up.
"Davey Hopper never retreated, he never ran away."
Speaking to reporters afterwards, he said: "I first met Dave before the miners strike, when I became an MP and we remained very good friends all that time.