Newcastle Pride 2016: Thousands attend city march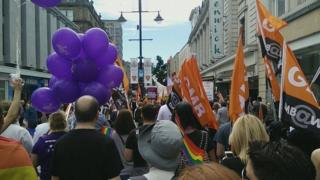 Thousands of people have taken to the streets of Newcastle for the annual Pride event.
Northern Pride is billed as one of the largest LGBT festivals in the UK and is now in its ninth year, with organisers hoping to top last year's record crowd of 71,000 people over its three days.
One of the highlights is the parade from the Civic Centre to the Town Moor.
Fun fair, stalls and musical performances will feature at the festival, which is on all weekend.
Mark Nichols, chair of Newcastle Pride, said: "We keep thinking we can't grow any more, and every year it has grown.
"We started off nine years ago in Leazes Park, we outgrew that, so moved to Exhibition Park, and outgrew that, so we're now over the fence on the Town Moor."
He added: "We grew from a one-day event to a three day one three years ago just because the numbers have grown so much.
"Last year we had a total of 71,000, and 10,000 people marched in the city centre."