Ponteland green-belt homes plan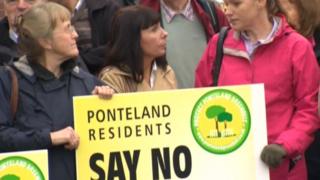 Plans to build 1,800 homes on green belt land in Northumberland have been unveiled.
Northumberland County Council wants to create a "garden village" on the Dissington Estate, on the outskirts of Ponteland, north of Darras Hall.
Developer Lugano Property Group claims the project could create 500 affordable houses.
But Ponteland councillor, Peter Jackson, said services could not cope with thousands more residents.
He said: "Already we have pressure on the school system and health services - these services cannot stand any more people.
"The county council is planning to have thousands more people living here without doing anything for the basic infrastructure of the area."
The county council's cabinet voted in favour of an "expression of interest" submission to the government by the developer.
This means the proposals will now be developed by Lugano Property Group and the plans could be selected as one of 12 garden village schemes nationwide.
Councillor Alan Hepple, who is in charge of economic growth, said the area needed hundreds more affordable homes to get young people on to the property ladder.
He said: "I've spoken to some young people who told me they were going to have to move away from Ponteland because they can't afford to live here.
"It's a place they've lived in all their lives - that can't be right."
According to the Department for Communities and Local Government, garden villages must be a "new discrete settlement" and not an extension of an existing town or village.
The developer said it planned to separate the village from Ponteland with woodlands and open farm land.