Durham Police enlists Mittens to be long arm of the paw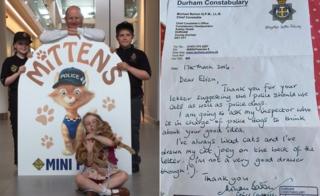 A five-year-old girl's pet cat has been signed up to join the long arm of the paw.
Eliza Adamson-Hopper wrote to Durham Chief Constable Mike Barton asking why the force only used dogs.
Now the force has created a cartoon cat based on Eliza's pet Mittens.
Mittens will front the force's Mini Police programme, a youth club which gives children a behind-the-scenes look at Durham Police.
Mr Barton said: "We thought Eliza's idea to have a police cat was a great idea.
"We wanted to recognise Eliza's fantastic suggestion, so what better way than to transform her own cat into our mascot?"
Eliza said: "I love the cartoon of Mittens, I think it's great that Mittens is now famous."
Her mother, Cheryl Adamson, said she was "blown away" by Durham Police's response.
She said: "I would never have dreamed in a million years that when Eliza wrote to the chief constable this would be the end result."
Eliza, from Burnopfield, was made an honorary member of the Mini Police and was given a special print of Mittens.
The mascot will be used as an educational tool in schools across County Durham.
Eliza's original letter read: "A police cat would be good as they have good ears and can listen out for danger.
"Cats are good at finding their way home and could show policemen the way.
"Cats are good at climbing trees and hunting and could rescue people that are stuck."