Four osprey chicks in 100-1 odds Kielder nest share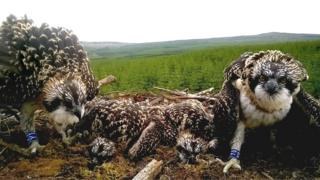 Four osprey chicks are thriving against the odds after hatching in a single nest.
Conservationists said the chances of the chicks surviving were 100 to one.
The multiple hatching, at Kielder Water and Forest Park in Northumberland, was one of only three in public UK osprey sites this year.
The bird of prey has been reintroduced to parts of England after an absence of more than 200 years, the Forestry Commission said.
Commission ecologist Tom Dearnley said they were a "fascinating species".
He added: "As Kielder Water and Forest Park ages, it is becoming more diverse".
The birds migrate from Africa to breed in the UK each summer and have an "amber" conservation listing because of historical declines due to persecution and low breeding numbers.
The commission's wildlife team is ringing the osprey chicks and fitting one with a tiny satellite tracker so the birds can be monitored more effectively.
The four sharing a single nest are said to be in very good health for such a large brood.
The birds have become popular enough to have their own blog and webcam feeds.