Lindisfarne monastery evidence found by amateur archaeologist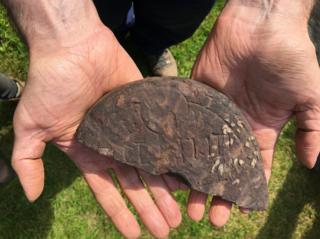 An amateur archaeologist has unearthed what is believed to be evidence of one of England's earliest Christian monasteries in a dig on Lindisfarne.
The rare grave marker, thought to be from the mid 7th-8th Century, has been described as a "stunning find".
A £25,000 project off the north-east coast was crowd-funded by 200 donors, including 60 who took part in the dig.
Project leader Lisa Westcott Wilkins said the name stone was "absolutely fantastic diagnostic evidence".
"It was a spectacular moment and, even better for us, is that...it wasn't found by one of the team leaders or experts, it was found by a member of the public who had helped to fund and make the project possible," she said.
The team has made a 3D interactive image of the find.
The name on the stone, ending in the common Anglo-Saxon "frith", is half visible and the team is waiting for experts to decipher the rest.
Project co-director Dr David Petts, of Durham University, said it was a "stunning find, of exactly the period we're looking for".
"It's unimpeachable evidence for Anglo-Saxon activity and confirms we're hot on the trail of the very earliest monastery here in Lindisfarne," he said.
The name stone is believed to date from around the time the monastery was built in 635AD.
Its location has, "surprisingly", never been properly established, Dr Petts said.
It was thought to be near the later medieval priory, the ruins of which remain, but there had been "no clear archaeological evidence to back this assumption up", he said.
"We are the first archaeological team who have gone into the field with the express aim of locating the archaeological remains of the early monastery."
---
Lindisfarne facts:
Connected to the mainland by a tidal causeway, and cut off twice every 24 hours
Home of the 1,300-year-old Lindisfarne Gospels
Northumberland's patron saint, St Cuthbert was an abbot of its monastery
Famous for its mead, a honey-based liqueur
Its castle featured in two films directed by Roman Polanski
---