Brain tumour cell fat fuelling find could aid treatment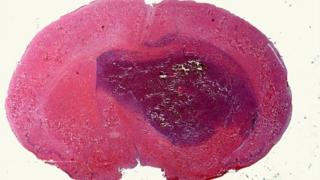 Brain tumour cells rely on fats to fuel growth a new study has suggested, which could have implications on how the most fatal form of the disease is treated.
Research at Newcastle University looked at the behaviour of glioma - the most common form of malignant brain tumour.
The findings, published in the journal Neuro-Oncology, seem to contradict the previously held belief that the cells were fuelled mainly by sugar.
It is hoped blocking the ability to use fats could slow tumour growth.
The study examined tumour tissue donated by patients undergoing surgery, as well as from mice.
Dr Elizabeth Stoll, from Newcastle University's Institute of Neuroscience, said: "Different cells in the body use different kinds of energy sources.
"A lot of cells will use sugars, but it turns out that these malignant brain cell tumours actually use fats to make energy, and by blocking the cell's ability to do this then we can actually slow the growth of the tumour."
She added: "Patients with malignant glioma currently receive a poor prognosis, and new interventions are desperately needed to increase the survival and quality of life for patients with the condition."
About 500 children and young people a year develop brain tumours, of which over half (58%) die within a year compared with 5% for breast cancer, 35% for leukaemia and 7% for prostate cancer.
The latest research comes just days after scientists claims that aspirin in liquid form could be a breakthrough treatment to help tackle brain tumours.