Man jailed for Northumbria Police officer bridge assault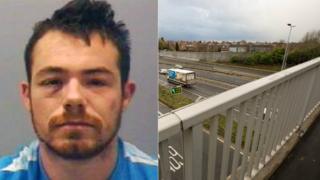 A man who assaulted a police officer on a bridge over the A1 on Tyneside has been jailed for five years.
Michael Walker grabbed the PC in a bear hug, leaned against the railings and said "we're both going over", Newcastle Crown Court was told.
The 28-year-old, of Cornhill, West Denton, had previously admitted grievous bodily harm with intent over the November incident.
He was initially charged with attempted murder, but this was later dropped.
The court heard that prior to the incident Walker, who had been drinking wine and vodka, had punched a neighbour in the face and ran off when police arrived.
He was confronted on the nearby footbridge by PC Richard Wilkinson, who was left "in fear of his life" after Walker grabbed him, and leaned back over the railings, lifting him off the ground.
'Carried off'
PC Wilkinson managed to free himself and radioed for assistance, but Walker continued to struggle with him.
When assistance arrived he kicked a female PC, and was eventually carried off the bridge by three other officers.
Walker later claimed to have no memory of the night.
Defending Walker, Robert Woodcock QC, accepted that PC Wilkinson must have been "terrified" but said it was only for a brief period.
He added that Walker had now confronted his drinking problem.
Sentencing him to five years in prison, Judge Paul Sloan QC said: "I accept you are now genuinely ashamed of your conduct that night."