MP Pat Glass to stand down after 'bruising' EU campaign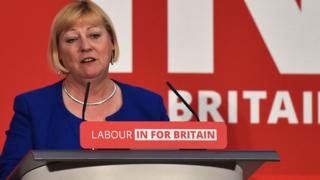 A Labour MP who revealed she stayed away from her local referendum count after receiving death threats has said she will not stand for re-election.
Remain supporter Pat Glass said the past six months had been "very difficult" for her and her family.
The North West Durham MP blamed the "incredibly divisive" EU Referendum campaign decision not to stand in the next general election.
She was promoted to Jeremy Corbyn's shadow cabinet on Monday.
In a letter to her constituency party chairman she said: "Whilst I had always intended to do nomore than two terms in Parliament I have found the last six months very, very difficult.
"The referendum has been incredibly divisive, it divided families and communities and I have found it bruising in many respects.
"It has had an impact on both me and my family as I am sure it has had on many others."
'Beyond the pale'
She was promoted to shadow education secretary on Monday by Labour leader Jeremy Corbyn. She had previously been shadow Europe minister.
Earlier Ms Glass said she decided not to attend last Thursday's referendum count in County Durham after police told her to "avoid public places".
She also described a separate malicious email sent to a family member as going "beyond the pale".
Durham Police said it was investigating "several pieces of information".
Ms Glass said: "Police advice was that it was best to avoid being in places I was expected to be and I decided not to attend the count."
Durham was one of 11 council areas across north-east England which voted to leave - only Newcastle voted to remain.
A Durham Police spokeswoman said: "We have been working with Mrs Glass to progress inquiries while offering advice and support during the investigation.
"A specific threat was dealt with by officers in Consett last week, [and] working with Mrs Glass's office, appropriate action was taken and the threat negated.
"No specific instruction not to attend a count in Mrs Glass's constituency was ever discussed."