Fishermen rescued from sinking boat off Sunderland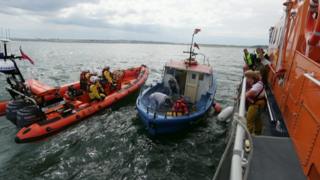 Eight fishermen have been rescued after their boat started sinking off the coast of Sunderland.
The crew on the 7m (23ft) long fishing boat issued a distress signal on Sunday afternoon stating their boat was rapidly taking on water.
Lifeboats from Tynemouth and Sunderland RNLI stations were scrambled and were able to get all the men off the stricken boat.
No-one was hurt and the fishing boat was towed to Sunderland.