'Large sinkhole' closes busy A1 in Gateshead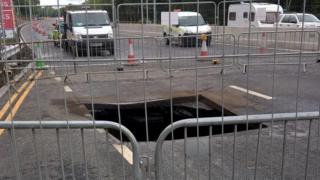 A "large sinkhole" has appeared on the busy A1 western bypass around Newcastle and Gateshead, according to police.
The 5m (16ft) wide and 3m (10ft) deep hole has closed the northbound carriageway on the A1 near the Lobley Hill Interchange.
It was reported by Highways England to police at 23:45 BST on Saturday, Northumbria Police said.
Nobody has been hurt and the void found underneath the road was being filled, the force said.
Diversions are in place while Highways England ensures the area is safe.
The hole has been identified as being part of old shallow mine workings, it said.