Bamburgh skeletons are reinterred after almost 1,400 years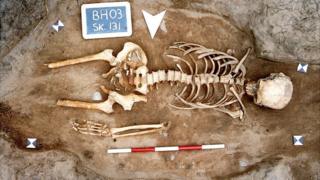 More than 100 skeletons unearthed in Northumberland have been laid to rest almost 1,400 years after they died.
The remains of 110 Anglo-Saxons were discovered in dunes near Bamburgh Castle during excavations carried out between 1998 and 2007.
The adult and child remains are thought to be of some of the earliest Christian converts in the north of England.
They were interred in the crypt of nearby St Aiden's Church in specially designed zinc-lined boxes.
The remains have been examined by experts from the Bamburgh Research Project and Durham University.
They concluded the area of the excavation was once a cemetery used by "robust and healthy" individuals around 650-700AD and were probably associated with the Royal Court of King Oswald.
The ceremony was the culmination of two years' work by Bamburgh Heritage Trust and the Northumberland Coast AONB Partnership to create a special area within the crypt of St Aidan's.
Jessica Turner, of the AONB Partnership, said: "It is incredibly fitting and moving that the final resting place for the skeletons is in the crypt of St Aidan's Church.
"It is tantalising to think the some of these people could have actually heard St Aidan preach on the same site as we know he founded his church here in 635AD.
"On the day that the country finds out about our future relationship with Europe it seems particularly striking that we are celebrating a very European community that lived in Bamburgh 1,400 years ago."
Some of the remains were transported from where they have been stored within the castle to the church by horse-drawn carriage.
A service, some of which was conducted in Old English, will given by the Canon Rev Brian Hurst.
He said: "The burial service reflected the significance of the occasion and was a blend of ancient and modern.
"We had a reading and a prayer in Old English and made use of the psalms which St Aidan encouraged."