Lickety Split ice cream parlour's van stolen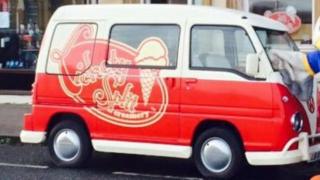 A distinctive ice cream van has been stolen from outside a dessert parlour.
The van was taken from outside Lickety Split on North Terrace in Seaham, on Friday night.
Witnesses said they saw the red and white VW being towed away and it was later seen being driven north on the A19 at Dalton Park.
Managing director Carl Thompson said it was a distinctive Japanese import and he is devastated at its theft.
He said: "My mum got it for us and it's been at the shop for six years.
"It was very popular with customers and we also go out to schools and the like in it.
"We are devastated it's gone and we just want it back, I don't see why anyone else would want it because it is very distinctive and very obviously ours."
Mr Thompson said he has reported the theft to Durham Police who are yet to comment.