Lumiere festival to return to Durham City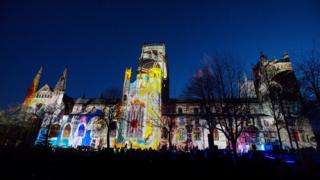 An outdoor light festival is to return to County Durham for a fifth time after council bosses agreed to pay a £600,000 commissioning fee.
Lumiere will return to Durham City over four nights in November 2017.
A report earlier this month said the festival generated £9.6m for the county's economy when it was last staged in 2015.
A county council spokesman said the event had demonstrated it could bring economic benefits to the area.
More than 200,000 people attended the 2015 festival, which saw 29 artworks illuminate the city centre and Durham Cathedral.
The county council's cabinet agreed to funding a commissioning fee of £600,000, with the remainder of the £1.8m cost coming from Arts Council England, other grants and sponsorship.
The council's cabinet member for economic regeneration and culture, Neil Foster, said: "It has never been more important to embrace opportunities that deliver well-demonstrated economic benefits and a lasting legacy.
"Lumiere now has a proven track record for both, and our partnership with organisers Artichoke goes from strength to strength."
First staged in the city in 2009, the festival has returned every other year, while January 2016 saw organisers, Artichoke, hold the first Lumiere London.