Beer mats 'one punch can kill' message in County Durham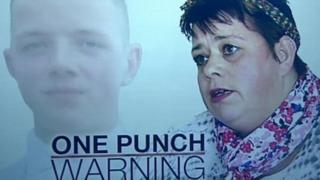 Beer mats are being put on tables in pubs throughout County Durham in a bid to highlight the dangers of "one punch" attacks.
Maxine Thompson-Curl's 19-year-old son Kristian Thompson suffered a single blow outside a Consett nightclub.
He died 10 months in 2011 of severe brain injuries with his attacker jailed for 28 months.
The mats have been funded by the Chester-le-Street Area Action Partnership (AAP).
The move also follows an incident in the town earlier this year, when a 54-year-old man suffered a serious head injury after an assault by a teenager.
Neighbourhood inspector Paul Gray said: "The sad truth is that sometimes it only takes one punch and two lives are ruined, with one person losing a life and the other their liberty.
"Kristian's story is tragic. We've worked hard over recent years to educate people across County Durham and Darlington on the dangers and consequences of getting into a fight on a night out and thankfully incidents of this nature are rare.