Murdered David Walsh 'intervened in son attack'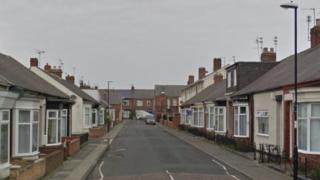 A man was beaten to death while intervening when his son was attacked, a court has heard.
David Walsh, 45, was found badly injured on a street in Hendon, Sunderland, in November.
Four men have gone on trial at Newcastle Crown Court accused of his murder and violent disorder.
Patrick Duggan and Dalton Barnett, both 19, Mr Barnett's father, Charles Lamont, 40, and 37-year-old Raymond Brown, deny all charges.
The jury heard that on the night of 20 November, Mr Walsh and one of his sons drove to the area after being told another son, David Richardson, was being attacked.
The violence intensified when Mr Walsh, described in court as "in a mood to fight", arrived.
He was attacked by four men and suffered 34 separate wounds, including blunt force injuries and stab wounds.
The trial, which is expected to last about five weeks, continues.