Kielder ospreys produce record-breaking number of chicks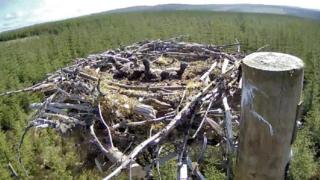 A record-breaking number of osprey chicks have hatched in Northumberland.
Nine chicks have been born on three nests at Kielder Water and Forest Park - beating the previous record of eight chicks in 2014.
The fish-eating birds usually produce two or three eggs each, but four chicks have hatched on nest 1A.
Osprey volunteer, Joanna Dailey, said to have four chicks on one nest is "very rare", so it was "particularly great" for everyone to see.
For 150 years ospreys in England were nearing extinction, but they have bred successfully in the park since they re-colonised naturally in 2009.