Northumbria Police chief Steve Ashman 'not a monster'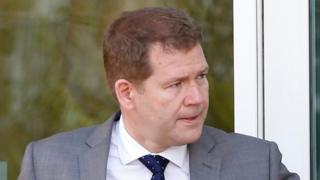 A police boss accused of trying to drive out a colleague who complained to him of sexism at work has denied being a "monster", a tribunal has heard.
Northumbria Police chief constable Steve Ashman is alleged to have bullied the force's former head of legal services Denise Aubrey.
Ms Aubrey is claiming unfair dismissal after being sacked in 2014 for gross misconduct, which the force denies.
The 54-year-old is also claiming sexual and disability discrimination.
The employment tribunal in North Shields has heard about alleged affairs between senior officers, including one between former Chief Constable Mike Craik and Assistant Chief Constable Carolyn Peacock.
The hearing was told Mr Craik was accused of lying to cover up the relationship and was punched at a barbecue at his home by Mrs Peacock's husband, Jim, a chief superintendant.
Mr Craik was advised by Ms Aubrey - then head of legal services for the force - about libel when reporters began to make inquiries into the allegations in June 2007.
'Deeply offensive'
Under questioning from Daphne Romney QC, Mr Ashman was accused of taking "a course of action to drive" her out of the organisation after she complained to him about "a glass ceiling, equal pay and sex discrimination".
Ms Romney also alleged her client had been "apprehensive" and "quite scared" of him.
Mr Ashman replied: "I found it deeply offensive, why would I have become this monster overnight?"
He claimed he had enjoyed a "pleasant working relationship" with Ms Aubrey, but under questioning admitted he had a notebook where he wrote down details of all contact with her.
The tribunal heard Mr Ashman - then deputy chief constable - instructed Ms Aubrey all communication with then chief constable, Sue Sim, had to come through him.
Ms Sim denied any knowledge of this during her evidence, which Mr Ashman said was "inconceivable in the extreme".
The tribunal previously heard claims from Ms Aubrey she experienced "physical effects of being bullied" by Mr Ashman, including "dizziness, headaches, vomiting and seizures".
Revelations of a second affair between retired assistant chief constable Greg Vant and his chief constable's secretary Juliet Bains have also emerged. The pair have strongly denied the claim.
The case continues.