Newcastle Primark abduction case girls to go on trial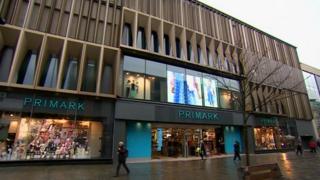 Two teenage girls are to go on trial charged with kidnapping a toddler in Primark with the intention of committing a sexual offence.
The two-year-old girl went missing from the store in Northumberland Street in Newcastle city centre shortly before 17:00 BST on 13 April.
She was found just over an hour later, about three miles away in Gosforth.
The girls, aged 13 and 14, appeared before a youth court in North Tyneside. They are due to go on trial on 7 June.
Dummies and baby milk
Neither entered any pleas and they were remanded into local authority care.
The pair are charged with kidnap "with the intention of committing a relevant sexual offence" contrary to the Sexual Offences Act of 2003.
They are also charged with two counts of theft - dummies from a Boots store and baby milk and a bottle from Sainsbury's.
District Judge Roger Elsey told the hearing they would also face a separate charge of kidnap, this being without the sexual intent.