Ex-chief constable 'flipped over legal boss affair claims'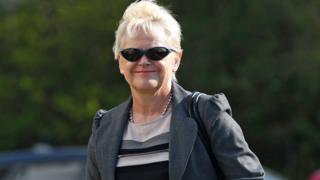 A chief constable "flipped" when she heard her legal boss revealed details of an alleged affair between two senior police officers, a tribunal heard.
Northumbria Police's ex-chief Sue Sim said she initially thought Denise Aubrey was "gossiping", but later realised this was not the case.
Former legal boss Ms Aubrey, 54, was sacked in 2014 for gross misconduct.
Mrs Sim was giving evidence in support of Ms Aubrey who is claiming unfair dismissal, which the force denies.
She told the hearing she initially felt "betrayed" but now did not believe Ms Aubrey was "gossiping".
The force's former head of legal services is also claiming sexual and disability discrimination.
The employment tribunal at North Shields previously heard how former chief constable Mike Craik was accused of lying to cover up an alleged affair with his assistant chief constable, Carolyn Peacock, but was accosted by her chief superintendent husband, Jim, who punched him at a barbecue.
Officers were called to deal with the altercation, but the record of the incident was then said to be deleted.
Ms Aubrey was said to have advised Mr Craik, who has retired, about libel at the time.
'Wanted her sacked'
During an investigation into Ms Aubrey's conduct, Mrs Sim was told she had breached Mr Craik's confidence by "gossiping" about the alleged affair.
At the hearing, Mrs Sim said: "I was told Ms Aubrey had breached the personal confidence of the former chief constable by relating a conversation that was personal to her and to Mr Craik, and that was an absolute breach of confidence, and if you want to know, I flipped.
"It was horrendous. I'm not going to refute that when I was told that, I wanted her sacked."
In a written statement to the tribunal, she concluded: "I do not believe what the claimant allegedly said came close to what I was being told, or to breaching confidentiality."
Angus Moon QC, for the respondent, asked Mrs Sim if she was lying in her evidence to help her friend.
"I'm not lying and she's not my friend," Mrs Sim said.
The case continues.