Northumbria Police pair 'in barbecue punch-up' over affair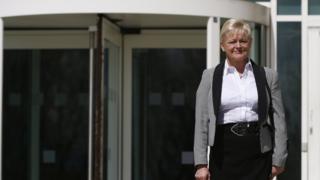 A chief constable had an affair with a senior female officer, resulting in her husband, a policeman, attacking him at a barbecue, a tribunal has heard.
Mike Craik, who has since retired from Northumbria Police, was alleged to have been seeing Assistant Chief Constable Carolyn Peacock.
The claim was made at a tribunal brought by the force's former head of legal services, Denise Aubrey.
She is claiming unfair dismissal after being sacked for gross misconduct.
The 54-year-old is also claiming sexual and disability discrimination.
Ms Aubrey allegedly disclosed information about the affair to colleagues - which she denies.
Giving evidence at the hearing in North Shields, she claimed Mrs Peacock's chief superintendent husband, Jim, punched Mr Craik after learning of the relationship.
The names of those involved can now be reported after restrictions were lifted.
The tribunal also heard allegations an incident log about the altercation was deleted and officers were told not to look for it.
'Covering up'
Mr Craik and the Peacocks, who are also no longer with the force, were not present at the hearing, but it was said they deny both the affair and the altercation at the barbecue ever took place.
In her statement, Ms Aubrey said: "The rumours about Mrs Peacock, a senior Northumbria Police officer, and Craik, a very senior officer, started circulating in 2007.
"I first heard them from a female officer in another force when I was attending a function in Wakefield.
"It was said that the police were called [to the barbecue] and Craik was alleged to have insisted that the incident log was removed from the force computer system.
"I have since found out from a former inspector who was the operational commander on duty that the log was indeed removed."
Daphne Romney QC, representing Ms Aubrey, said: "It is not simply a matter of whether two or three people were involved in a scuffle but also an investigation of how that was used in covering up and misleading a criminal investigation."
The case continues.