Northumbria Police 'fostered sexist culture' tribunal told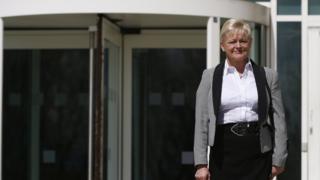 The former head of legal services for Northumbria Police has accused the force of "overt sexism" and says she was "physically afraid" of one officer.
Denise Aubrey, 54, was sacked for gross misconduct but alleges unfair dismissal and sexual and disability discrimination.
The force "ruined my life, my mental health and my career," she said.
The force denies the claims at the employment tribunal being held in North Shields.
'Physically afraid'
In her evidence statement, Ms Aubrey said "overt sexism was rife" when she joined the force in 1993 and that "a male chief inspector told her she was appointed as the "token woman".
She claims on one occasion the force's current chief constable, Steve Ashman, said: "I'm going to get rid of her, whatever it takes."
"The physical effects of being bullied by [then deputy chief constable] Ashman frequently caused me to experience disorientation, dizziness, hot and cold sweats, headaches, fainting, physical vomiting, palpitating heartbeats, lack of breath, seizures and pains in my chest," she said.
"I became physically afraid of what he would do or say next. I was married to my job and it meant all the world to me and I was devastated by what was happening."
She said she had been severely unwell before and after her suspension in June 2013 and was dismissed in 2014 following a disciplinary hearing she was unable to attend.
"After two decades of dedicated service, Northumbria Police ruined my life, my mental health and my career," she said.
The case continues.