'Run Geordie Run' Europe challenge begins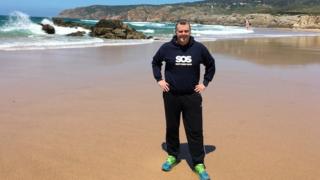 Charity fundraiser "Run Geordie Run" has set off for Europe on the next leg of his around the world challenge.
Mark Allison has already run across across the US and Australia, and is now taking on the 3,400 miles from Lisbon to Istanbul.
The software developer from Bedlington, Northumberland, aims to complete the route across 14 countries in 100 days.
He started off from Lisbon's Guincho Beach and said he was not looking forward to running up 2,500ft hills.
He said: "The start of the run across Europe promises to be the most difficult of any of the four segments around the world run so far.
"After dipping my toes in the Atlantic Ocean and running across Guincho Beach, I'll need to run 10 miles up and over the Sintra Mountains in the Sintra-Cascais Natural Park.
"Now I knew this park would be hilly but there must be a 2,000ft, maybe 2,500ft climb there."
The money he raises will go to two charities, the Children's Foundation and the Sir Bobby Robson Foundation.
Mr Allison set off from Tynemouth in the motor home that will be his support base for the duration of the challenge last week.
He added: "This run is a big step up for me in terms of distance and especially elevation.
"But knowing there are 9,000ft climbs like the Stelvio Pass and 15 Tour de France climbs ahead of me is daunting."