Volunteers needed to find rare Dingy Skipper butterfly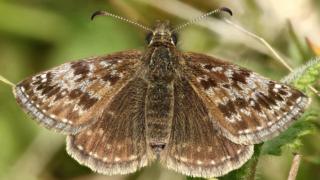 Volunteers are being sought to help count numbers of one of the most elusive butterflies in the north-east of England.
Durham Wildlife Trust is running survey workshops on the inconspicuous brown and grey Dingy Skipper.
The specie has declined nationally by 42% in recent years, but it still has stronghold areas in parts of Durham, the trust said.
The first workshop is on 5 May at Low Barns nature reserve, Witton-le-Wear.
Mark Dinning, from the trust, said: "It is a species that is quite easily overlooked as it can blend in well with its sounding environment, which makes seeing this champion at the art of camouflage all the more satisfying.
"Our workshops will help surveyors to locate them."
The trust will run its survey until June.