Jarrow schoolgirl escapes driver grab attempt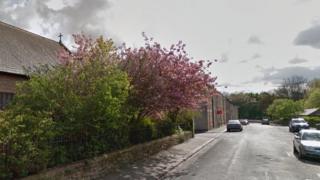 A man tried to drag a girl into his car as she was walking to school, police have said.
The girl was approached on Monday by a man in a black 4x4-style car in Salem Street at the junction with Staple Road in Jarrow.
She declined his offer of a lift and he drove off, stopping near Randolph Street where he opened the car door and grabbed at the girl's wrist.
Northumbria Police said the schoolgirl pushed him away and ran home.
'Parents concerned'
The girl was shaken but not injured.
Insp John Smith said: "We know local parents will quite rightly be concerned about this incident and I would like to let them know we are doing everything we can to trace the car and the man responsible."
The force is appealing for witnesses.
The man is described as white, in his 40s, with a black tattoo on his neck with the words LOVEL written in small letters.