Assault victim criticises attacker's 'lenient' sentence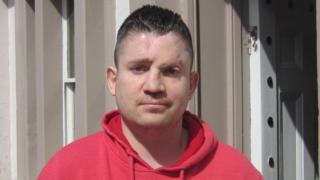 A man left for dead after an unprovoked attack has branded his assailant's two-year prison sentence "disgusting".
Richard Stark was left brain-damaged by the assault, and lives in a care home.
He said attacker Stephen Starling, who admitted causing grievous bodily harm, left him with a "life sentence" after the attack in April 2015.
Prosecutors said there was not enough evidence to pursue a more serious charge of causing grievous bodily harm with intent.
Starling was initially charged with the greater offence, which carries a maximum life sentence, but eventually pleaded guilty to causing grievous bodily harm.
'Wholly blameless'
His plea to the lesser charge, which carries a maximum five-year prison sentence, was accepted.
The Crown Prosecution Service (CPS) said there was not enough evidence to prove intent during the attack in Darlington, County Durham.
Mr Stark, 38, who was left in a coma for a month, said he is angry that he was not consulted.
He said: "It's absolutely disgusting that he's going to be out in two years' time and he's going to get on with his life but he's affected the rest of my life.
"I'm never going to get back to my normal self so I've had the life sentence, not him."
Det Con Mick Trodden from Durham Police said the "wholly blameless" Mr Stark was lucky to survive the attack.
He said: "Starling showed no mercy and absolutely no concern for his victim - simply walking away and leaving him for dead in the road.
"It was a brutal and cowardly attack."
Police said they were also not informed the charge was being changed.
The CPS said it would normally consult with both the police and the victim before accepting a a guilty plea for a lesser charge, but in this case such a consultation would not have changed the prosecutors' views on Starling's charges.
A spokesman said: "In cases where the acceptance of a lesser plea is made on public interest grounds, prosecutors will consult with the victim and police involved in the case to ensure that the rationale for the acceptance of that plea is understood by all parties.
"In this case however the basis for accepting the lesser plea was entirely evidential."