HMP Northumberland prisoner arrested after hospital escape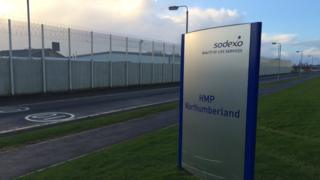 A prisoner who escaped from hospital in Northumberland has been arrested.
The man, from HMP Northumberland in Acklington, was with prison staff while receiving treatment at Cramlington Hospital at 18:00 BST on Friday.
Northumbria Police said when leaving the hospital, he ran off and escaped on a stolen motorbike. He was located at 20:00 BST at an address in Wallsend.
The 36-year-old has been arrested on suspicion of escaping from lawful custody.
A man aged 27 and a woman aged 25 have both been arrested on suspicion of assisting an escapee.
HMP Northumberland is a category C jail which was privatised in 2013.