Teenagers in court over Newcastle toddler 'kidnap'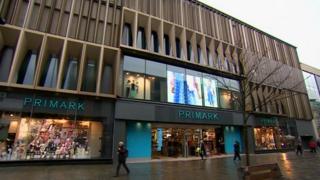 Two teenage girls have appeared in court charged with kidnapping a two-year-old child with the intention of committing a sexual offence.
The toddler went missing from a Primark store in Northumberland Street in Newcastle city centre shortly before 17:00 BST on Wednesday.
She was found more than an hour later, about three miles away in Gosforth.
The girls, aged 13 and 14, are also charged with shoplifting dummies, baby milk and a bottle.
The teenagers, who cannot be identified, appeared at South East Northumberland Magistrates' Court.
They were denied bail and ordered to be tagged and remanded into local authority care.
They were also banned from entering the city centre and discussing the case on social media.
Their next appearance will be at North Tyneside Youth Court on 13 May.