Naval reserves celebrate £3m training centre revamp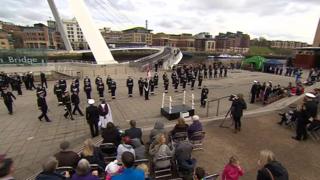 A Royal Navy training centre on the banks of the River Tyne has reopened after a £3m revamp.
The Tyne division of the Naval Reserve has been in existence since 1905, with more than 10,000 reservists passing through its doors.
A rededication parade marked the reopening, with reservists from the centre's training vessel HMS Calliope taking part.
The upgrade includes new classrooms and a state-of-the-art gym.
Also on parade was the band of Her Majesty's Royal Marines Scotland and the ceremony featured marching platoons who crossed the Millennium Bridge.