Durham 'hollowed-out' by rise in university students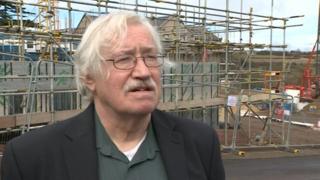 Durham City is being "ruined" and "hollowed-out" by a rise in student numbers and new accommodation, a conservation society has said.
The City of Durham Trust said both had increased "quite substantially" in recent years.
Accommodation blocks for about 4,000 students had been built since 2012, it added.
Durham County Council said it was "balancing the needs of a world-class university with those of residents".
The number of students in the city has risen to 17,500 from 14,300 in 2003-4.
'Student vibrancy'
Trust chairman Roger Cornwell said it felt the group was "swimming against the tide" and the city emptied when students left during the holidays.
"I think they're being very optimistic about being able to let all the rooms and the risk is Durham will fill up with places with empty, or half empty, student halls," he said.
The trust believes further private developments are unnecessary and is pressing the university to build more accommodation on college sites instead.
The university opposed plans for a new student block at The Gate shopping centre saying it was not needed.
Regeneration councillor Neil Foster said students brought "spending power" and "vibrancy" to the city.
"But I do appreciate for the local residents that this can disturb their lives so we've got to find a balance of managing those two competing needs," he said.