Byker Wall's £9.7m revamp completed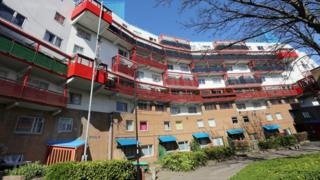 A £9.7m refurbishment of a listed housing estate in Newcastle has been completed.
Byker Wall, which has more than 600 flats, has been repainted in its original colour scheme and a new roof with solar panels has been installed.
Designed by architect Ralph Erskine, it was built between 1969 and 1982 to replace demolished terraced houses.
The Byker Community Trust, which runs the wall, said the revamp was about the estates' "fantastic community spirit".
Chief executive of the trust Jill Haley said: "We have a very very diverse and colourful community and neighbourhoods within, they're just fantastic."
She said a "fantastic community spirit" was what "Erskine built into this estate and what he had in mind when he designed it."
The revamp of the 1.3-mile-long (2.16km) structure, which took two years to complete, is part of the trust's 10 year £26m investment.
The trust was created in 2012 following a stock transfer from Newcastle City Council.