Gateshead Library's 90 years celebrated in pictures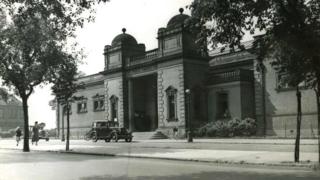 When Gateshead Central Library opened on 31 March 1926, it was an immediate hit with users.
In its first year 399,425 books were borrowed, which almost doubled the following year.
And while a BBC investigation has found hundreds of libraries have closed over the past few years, the facility on Prince Consort Road is still going strong.
A photographic exhibition is now being held to celebrate its 90th birthday.
Officially opened by the Earl of Elgin, the £23,000 building was state-of-the-art, with glass panels in the ceiling and windows placed high in the walls over the bookshelves for maximum light.
Users were able to browse the shelves and pick up books themselves rather than request them from a librarian, as was usual at the time.
It also stocked music for home use and books for the blind.
In 1937, a table and a few chairs were added so children could do their homework in the library.
They were encouraged to ask for help but a notice warned "the assistant won't do the work for you - that would not be fair to you or to the teacher - but she will find books containing just the information you will need".
Newspapers were always available, although to the undoubted frustration of betting fans anything to do with horse racing was censored by the judicious use of gummed strips until 1939.
Gateshead Central Library was extended in the 1970s and there was a further extension and major refurbishment programme in 2011 with the help of Big Lottery funding.
Council cuts in the past few years have resulted in some Gateshead branch libraries being handed over to volunteers, but the central library continues to be a council-run "core" facility.
Friends of Gateshead Central Library holds regular meetings and encourages members of the community to get involved with local events.