Rothbury landslip: Damaged road finally reopened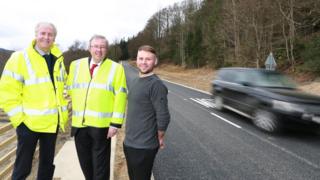 A Northumberland road damaged by a landslip more than three years ago has finally reopened to traffic.
The B6344 at Crag End in Rothbury - one of the main routes into the town - has been closed since Boxing Day 2012.
The closure caused lengthy diversions and repairs have been repeatedly delayed after conditions worsened.
Northumberland County Council cabinet member Ian Swithenbank said it had been "an extraordinarily complicated engineering scheme".
"There was no option for a quick repair - such was the movement of the ground it would have just collapsed again," he said.
"I appreciate this has caused a level of disruption for local residents and I'd like to thank them their patience and understanding over the years this project has taken."
The £10m project to reinstate and strengthen the road eventually began in March last year.
A pumping system had to be installed to remove millions of litres of water underneath the landslip, the council said.
Construction work involved driving hundreds of concrete-filled steel tubes up to 80 feet into the ground with 144 ground anchors to stop the land from moving.
Rothbury and Coquetdale county councillor Steven Bridgett said: "It has been a long protracted process to reach this point and a far more technical process than the patch and repair jobs that have taken place on this stretch road in the past."
The council contributed £4m to the scheme with central government providing the rest.
There will be an official opening ceremony next month.
Traffic restrictions might be needed after Easter to allow for final landscaping of the area, the council said.