North East billion pound drug runners jailed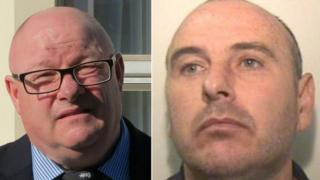 Two members of a gang that used fake ambulances to smuggle drugs worth £1.6bn into the UK have been jailed.
Norman McNestrie, from Consett, and Paul Robson, from Newcastle, posed as travelling salesmen, collecting drugs from bogus paramedics.
They in turn used phoney patients as cover, the National Crime Agency said.
Robson was sentenced to 15 years for conspiracy to supply class A drugs and McNestrie was handed 19 years and three months for the same offence.
Agency branch commander Oliver Higgins said the pair thought "driving nice cars and wearing smart suits" would keep them "under the radar of law enforcement".
"Under the guise of professional travelling salesmen going about their business, McNestrie and Robson were responsible for supplying vast quantities of class A drugs around the UK," he said.
Robson, 54, was caught by agency officers as he handed over 10kg of cocaine to an Albanian drug dealer in February 2015.
After searching his car they found another 33kg of the drug and 2kg of heroin.
That haul was worth £6.2m.
McNestrie, 50, was arrested in July 2015 using evidence from phone records and number plate information.
Robson admitted conspiracy to supply class A drugs, while McNestrie was found guilty of the offence after a trial at Kingston Crown Court.
Three Dutch men were jailed last year and two Albanian men were jailed on Wednesday for their part in the operation.