Salaer Amir caught driving at 100mph with defective brakes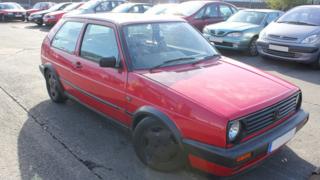 A man caught driving at 100mph with defective brakes told police he was in a rush, a court has heard.
The brakes on Salaer Amir's old-style Volkswagen Golf were so bad they would have doubled his stopping distance, Newcastle Crown Court heard.
He was spotted on the city's Central Motorway driving at high speeds in the early hours of 1 April and followed.
The 22-year-old of Ilfracombe Avenue, Newcastle, admitted dangerous driving and was given an 18-month driving ban.
The hearing heard that Amir would often study late at night at Northumbria University library.
Michael Bunch, prosecuting, said a police officer had spotted the Golf "accelerating hard, going through the gears quickly".
The officer followed Amir who eventually pulled over and told him he was "in a rush", the hearing heard.
The brakes were later tested and found to be leaking fluid.
"It was necessary to press the brake almost to the floor before any resistance could be felt," Mr Bunch said.
Richard Bloomfield, defending, said it was a "single mistake by a young man".
Amir was also given a 12-month community order with 140 hours' unpaid work and a three-month from 8pm to 6am curfew.
Judge William Lowe said: "No member of the public was involved - the only person you put in danger was probably yourself."