PC Rathband family rule out appeal over negligence claim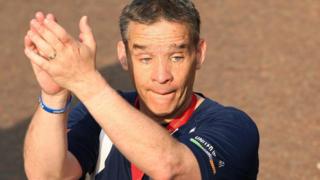 The family of David Rathband, who was shot by gunman Raoul Moat, have ruled out an appeal over a failed negligence claim against Northumbria Police.
The officer, who took his own life on 29 February 2012, was blinded by Moat in July 2010, minutes after he made a phone threat to kill police.
Earlier this month the High Court rejected a claim that officers should have been warned they were in danger.
The PC's brother Darren said the family had "no regrets" over the court action.
Mr Rathband and his sister Debbie Essery claimed Northumbria Police were negligent in failing to pass on warnings that Moat was "hunting for officers".
But Mr Justice Males said it was "well-established law" that police did not owe the public or officers a "private law duty of care" when making operational decisions.
Mr Rathband said: "Debbie and I have considered appealing as we believe the judge was wrong in regards to the police holding a duty of care.
"However, we will not be appealing."
PC Rathband, originally from Stafford, began the civil action before his death.
Despite being left with a legal bill in excess of £100,000, he said his brother had put in place "adequate measures" for them in case they lost.
He said: "We have no regrets taking on David's litigation. He started it, he knew better than anyone how he was left unprepared and in harm's way.
"Those who were involved in the tragic events will have to come to terms with the final outcome, as we have to.
"David considered others before himself and made sure there were adequate measures in place to ensure any fees were not an extra burden on Debbie and I."