Takeaway boss Tipu Sultan 'executed' with shotgun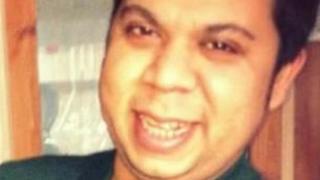 A Tyneside takeaway boss was "executed" by a man with a sawn-off shotgun, a court has been told.
Tipu Sultan, 32, was gunned down at close range behind the Herbs & Spice Kitchen in Lake Avenue, South Shields, in April and two men fled on a motorbike, Newcastle Crown Court heard.
Michael McDougall and Michael Mullen, both from the town, deny murder.
The jury heard the motive for the killing may never be proved, but the identities of the men responsible will.
The court was told that at 22:00 BST on 7 April last year he was shot through the neck with a 12-bore shotgun.
Prosecutor Richard Wright QC alleged Mr McDougall, 47, wielded the weapon, while Mr Mullen, 24, drove him to and from the murder scene on the bike.
"Whether they bore him a grudge, whether they were acting on the instructions of others, or whether they killed the wrong man… the prosecution does not have to prove a motive for this murder," Mr Wright said.
"We have an obligation to prove who killed Tipu Sultan, and we will do that."
CCTV tracked the movements of the bike between the homes the accused men shared with their partners and the murder scene, the jury was told.
Mr McDougall and Mr Mullen also deny charges relating to possession of a firearm, while Mr Mullen has additionally pleaded not guilty to a charge of conspiracy to pervert the course of justice.
The trial is expected to last four weeks.