Durham prison mentally ill inmate kept in solitary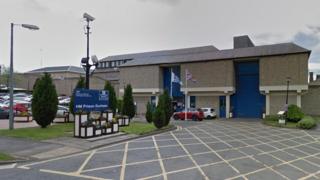 A mentally ill prisoner spent six months "deteriorating" in solitary confinement waiting for a transfer for treatment, a report has said.
HMP Durham was overcrowded with inmates who "should properly be held in different establishments", the Independent Monitoring Board said.
It listed those with mental illness, awaiting deportation or serving long sentences.
Changes to mental heath treatment were planned, the prison service said.
The overhaul would give "governors a much greater say over what services their prisoners need and how the available budget is used", a spokesperson said.
"Ageing and ineffective prisons" were being also replaced with "facilities fit for the modern world".
The IMB report said a lack of beds in mental health units meant prisoners in need of treatment had to wait until one could be found.
Responsibility for mental health services in prisons lies with the NHS.
'Golden hello'
Foreign nationals were "supported and treated fairly" but the board was concerned some deemed unsuitable for removal to immigration detention centres were being held for too long after serving sentences.
The Category B jail, which houses young offenders and men sentenced by local courts, was not suitable for those serving long sentences, the board said.
There were routinely two prisoners in one-person cells which "appear too small despite not being illegal".
The board accepted the prison had "many areas of excellence" and "strong leadership".
It praised a prison programme for recovering drug addicts and said there was a "clear focus on inmates' reintegration into society".
However, some staff had left because they did not want to work with G4S and Spectrum, who now provide the prison's nursing and GP services.
"Informal observations" suggested this was because jobs were available in the NHS locally and G4S had an "unfavourable reputation", a board spokeswoman said.
G4S was offering "golden hellos" because it was finding it "very difficult" to attract staff.
Liz Morgan, its director of nursing, said: "Across the country, healthcare organisations, including the NHS, are finding it challenging to recruit and retain nursing staff with many looking overseas to attract the number of qualified people required.
"Within custodial settings the vetting rules prevent us from recruiting overseas, but we have put in place a joining and retention bonus to enhance our offer to nurses."