Witton Gilbert new flood basins 'safeguard 50 homes'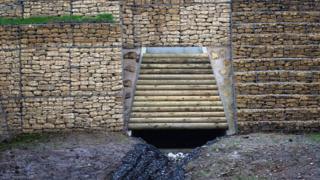 Flood defences in a County Durham village badly hit by torrential rain in 2012 have been upgraded to protect at least 50 vulnerable homes.
Five basins that can store 1,000 cubic metres (35,000 cubic ft) of rain water each have been built in Witton Gilbert to trap water, the county council said.
The council has worked with landowners to extend ditches at Brookside so water can be diverted from homes to basins.
The new defences have been funded by the Environment Agency.