New A1 footbridge installation under way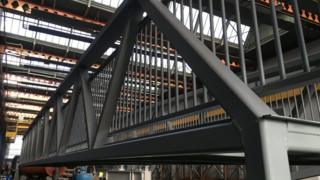 Work is under way to install a new footbridge spanning more than 60m (197ft) over the A1 at Gateshead.
The new bridge, which can be used by pedestrians and cyclists, is part of a £61m scheme to upgrade the motorway from two to three lanes.
Highways England said parallel link roads were being created between Lobley Hill and Gateshead Quay to ease congestion.
Contractors demolished the old Chiltern Gardens footbridge last year.
The A1 between junction 68 at Lobley Hill and junction 69 at Gateshead Quays is closed until later on Saturday.