Blinded policeman David Rathband's troubled life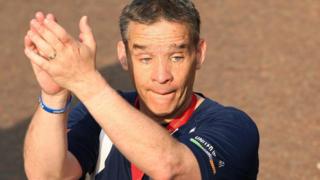 A High Court judge has ruled the family of PC David Rathband, the officer shot and blinded by Raoul Moat, is not entitled to compensation from Northumbria Police. In the wake of the verdict, BBC News looks at the troubled life of the policeman.
Mr Rathband had proclaimed himself lucky to be alive after being blasted twice in the face as he sat in his patrol car in Newcastle in July 2010, and threw himself into charity work.
Yet within two years he was dead, having taken his own life at the age of 44.
In an interview with the BBC's disability affairs correspondent Peter White in 2011, Mr Rathband said he was impatient with having to relearn how to do things that had come so easily to him before he was shot.
"I do feel vulnerable and I'm sure other blind people do," Mr Rathband said. "It's not very nice, I don't like it."
The father of two said being shot had also changed the way he thought about himself.
"I think somebody gave me a Superman vest because I always thought I was invincible and now I realise that having been shot in the face and nigh on killed, I'm not invincible, I am just very lucky."
He channelled the attention he received in the wake of the shooting to set up a charity, the Blue Lamp Foundation, to provide support to members of the emergency services injured in the line of duty.
In 2010, he won the emergency services section of the Pride of Britain awards, in recognition of his courage in dealing with his injuries.
Among the fundraising events he took part in were the 2011 London Marathon and a sponsored walk along the Northumberland coast.
But despite the praise his charity work and his reaction to his disability generated, Mr Rathband said he felt frustrated, and there was also an impact on his family life.
In November 2011 he announced on Twitter that he and his wife Kath were separating, but denied the move had anything to do with his arrest on suspicion of assault - when officers were called to an incident at the family home.
The following February Mr Rathband was found dead at his home in Blyth. An inquest found he had taken his own life.
His estranged wife told the three-day hearing that their marriage ended after her husband's affair with 7/7 London bombings survivor Lisa French.
Shortly before he died Mr Rathband had returned from a visit to his twin brother Darren in Australia, and it was his brother and sister who continued the compensation case their brother had begun.