Missing Sally Allan search: Body found at Jarrow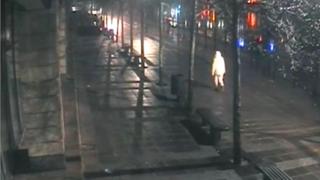 Police searching for a missing Northumberland woman have found a body in the water on South Tyneside.
Sally Allan left her home in Ponteland early on Boxing Day and was later seen on CCTV on Newcastle's Quayside.
There have been no further sightings of the 59-year-old and it was thought she had gone into the water.
The identify of the body recovered from Tyne Dock West, Jarrow, has not yet been confirmed, but police said Mrs Allan's family had been informed.
The disappearance of the mother-of three sparked a major search operation involving many local people in her home town.
When the CCTV images emerged police divers searched a section of the River Tyne but drew a blank.
Flowers were laid at the spot where she was last seen by family and friends.
In a statement, Mrs Allan's family said: "The body has not yet been formally identified as Sally, but the police and ourselves believe there is strong evidence that it is her.
"There is great sorrow with this news, but also relief that the police have hopefully found Sally and the family will now have the opportunity to give her a proper farewell.
"The family would like to thank the police marine and diving unit who have worked tirelessly for the past five weeks to find Sally.
"Diving in the river is difficult and dangerous work and river conditions during this period have at times been a challenge.
"At the start of January officers from the marine unit told us they were determined to find Sally and their dedication and commitment looks like it has now brought the family closure."