Sunderland cancer woman Jeanette Scully 'saw doctors 58 times'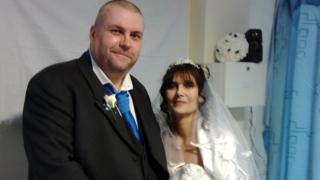 A woman who died from a cancer which went undiagnosed despite 58 visits to doctors in five months, endured "excruciating pain", an inquest heard.
Jeanette Scully, 47, from Sunderland, developed a rare tumour in her uterus, but by the time it was discovered it was too late for surgery.
She died in August of cancer of the womb after being examined for abdominal pain since 2012.
But a coroner ruled earlier detection was unlikely to have made a difference.
Her widower David said pain often made her "scream like a football fan".
The inquest at Sunderland Civic Centre, heard the couple, who had been together for 22 years, married while Mrs Scully was in hospital.
She had been referred to specialists after experiencing severe back pain, weight loss and blood in her stool, the inquest was told.
Mr Scully said: "The pain she was going through was excruciating. She was literally screaming like a football fan at a match."
Mr Scully said she lost more than two stone in weight and she only ate "tiny bits" because going to the toilet was so painful.
'Nobody was listening'
He said his wife was diagnosed with fibroids and told the associated pain would ease, but "it turned out it never did", he added.
A "mass" was later detected, but this was put down to an infected fibroid and was only treated with antibiotics.
Mr Scully told the hearing: "She had given up hope of anyone helping her, she felt as though nobody was listening."
He said his wife had 58 appointments with doctors between January and last May when she was diagnosed.
"It's unbelievable someone can be going through that amount of pain, and still the only way it got found was because she pleaded," he said.
Dr Johannes Dalhuijsen, one of the GPs at the surgery where she was treated, told the inquest: "She was seen by a variety of clinicians.
"I couldn't say her symptoms were neglected. A lot of examinations were done that were appropriate."
However, assistant Coroner Andrew Hetherington ruled that earlier detection was unlikely to have made a difference.
He concluded the cancer was in a position where it "could not be seen radiologically".
After the hearing, Mr Scully said the family was considering a civil claim against Mrs Scully's GPs and the City Hospitals Sunderland NHS Foundation Trust